10 Genius Furniture Pieces Designed For Small Spaces
Introduction
Living in a small space can be challenging, especially when it comes to furnishing and organizing your home. However, with clever design and innovative thinking, furniture manufacturers have created a range of genius furniture pieces that are specifically designed to maximize space in small living areas. In this article, we will explore ten such furniture pieces that are not only functional but also aesthetically pleasing, making them perfect for small spaces.
1. Wall Beds
One of the most popular furniture pieces designed for small spaces is the wall bed, also known as a Murphy bed. These beds can be folded up vertically against the wall when not in use, providing extra floor space during the day. Wall beds come in various designs and sizes, including options with built-in storage and desks, making them versatile and perfect for studio apartments or guest rooms.
2. Convertible Sofa Beds
A convertible sofa bed is a versatile piece of furniture that serves as both a sofa and a bed. These sofa beds can be easily transformed into a comfortable sleeping surface when needed, making them ideal for small living rooms or home offices that may occasionally need to accommodate overnight guests. Some designs even feature additional storage space, further optimizing the limited space available.
3. Nesting Tables
Nesting tables are a smart solution for small spaces. These tables come in sets of two or more, with each table fitting neatly underneath the larger one. When you need additional surface area, you can easily pull out the smaller tables and arrange them as needed. This design not only saves space but also adds a touch of versatility to your living area.
4. Storage Ottomans
Storage ottomans are not only great for putting your feet up but also for providing hidden storage space. These multifunctional furniture pieces feature a hollow interior that can be used to store blankets, pillows, or other items you want to keep out of sight. Storage ottomans come in various sizes and styles, making them a practical addition to any small living space.
5. Wall-Mounted Desks
In compact home offices or small bedrooms, a wall-mounted desk can be a game-changer. These desks can be folded down when in use and easily tucked away against the wall, freeing up valuable floor space. Wall-mounted desks often come with built-in shelves or storage compartments, providing a functional workspace without sacrificing square footage.
6. Floating Shelves
When it comes to storage solutions for small spaces, floating shelves are a popular choice. These shelves are mounted directly onto the wall, eliminating the need for bulky freestanding bookcases or cabinets. Floating shelves can be installed at various heights and widths, allowing you to make the most of vertical wall space and showcase your favorite books, decor items, or plants.
7. Expandable Dining Tables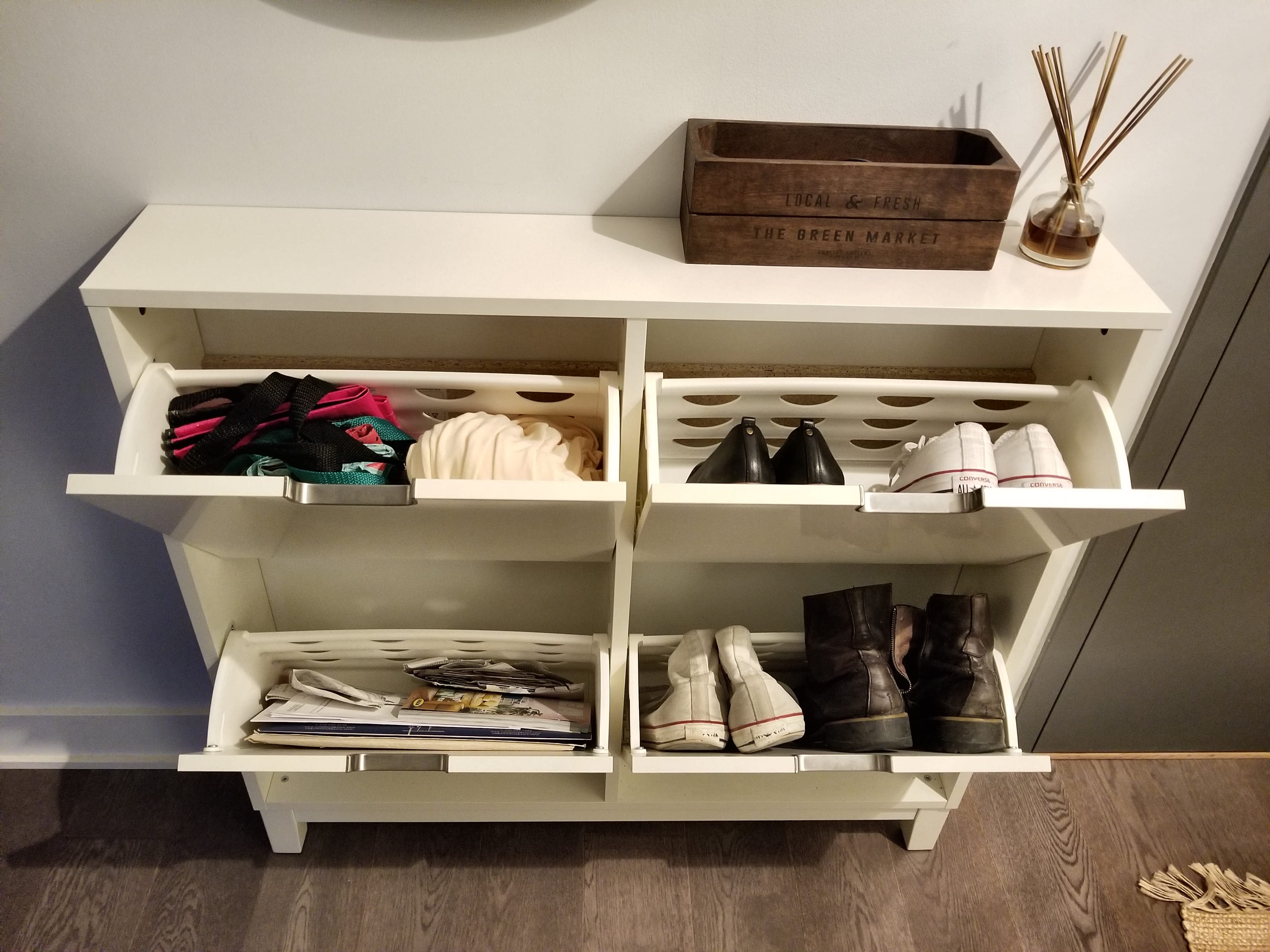 For those who enjoy hosting dinner parties but have limited dining space, an expandable dining table is the perfect solution. These tables come with additional leaves or sections that can be easily added or removed, allowing you to adjust the table size based on the number of guests. When not in use, the table can be compacted to save space.
8. Sliding Wardrobe Doors
In small bedrooms with limited space for swinging doors, sliding wardrobe doors are a practical and stylish solution. These doors slide along a track, eliminating the need for extra clearance space. Sliding wardrobe doors can be customized with mirrors, frosted glass, or various finishes, adding a touch of elegance to your bedroom while optimizing space.
9. Corner Desks
When working with a small home office or study area, utilizing corner space is essential. Corner desks are designed to fit snugly into the corner of a room, maximizing floor space while providing ample work surface. These desks often come with built-in storage options, such as shelves or drawers, making them efficient and functional for small spaces.
10. Vertical Storage Cabinets
Vertical storage cabinets are ideal for small spaces where floor space is limited. These tall cabinets make use of vertical space and can be placed against a wall, providing ample storage without taking up much floor area. Vertical storage cabinets are available in various widths and heights, offering plenty of options to fit your specific needs and preferences.
Conclusion
Living in a small space doesn't mean you have to compromise on style or functionality. With the range of genius furniture pieces designed for small spaces, you can optimize every inch of your living area. From wall beds and convertible sofa beds to nesting tables and vertical storage cabinets, these furniture pieces not only save space but also add versatility and practicality to your home. By choosing the right furniture pieces, you can transform your small space into a functional and aesthetically pleasing haven.